Inclusive Physical Rehabilitation
Presentation of research activities
The research activity of the unit "Inclusive Physical Rehabilitation" focuses on the development and evaluation of diagnostic, prevention, and treatment strategies in physical rehabilitation. We particularly focus on neuromuscular abilities, functional deficits as well as social and environmental factors to develop solutions to promote and improve functional independence and quality of life for people with chronic metabolic diseases and, more generally, the elderly. We currently focus on two main projects:
The ARBORELE project:
This project proposes to compare the perception of the lower extremity between young and older adults and to characterize the relationships with walking. The perception of the dimension of body parts is considered essential to perform efficient and safe movements: for instance, we need to know the length of our arm to properly reach an object. A study by our group showed significantly higher distortions in the perception of the arm length in the older than in young participants. However, empirical studies specifically investigating age-related changes in the perception of lower extremity and their relationships with walking are missing. Thus, ARBORELE project will allow us to get better understanding of lower extremity perception can provide major applications in walking impairments and sport training.
The CollHome project:
This project explores collaborative practice in home care, the needs and expectations of the stakeholders involved, and identify their roles and their tasks. Secondly, it will investigate possible strategies to improve home care management and, more particularly, optimize collaborative practice in home. This is highly important as Switzerland's older adult population has been growing constantly for several decades, as has the prevalence of people living with multiple chronic conditions and degenerative diseases. This demographic change leads to real challenges for the health care system and caregivers. One solution to help cope with this demographic transition and address patients' long-term care needs requires a shift from hospitalized rehabilitation to home care. Given this there is a need to build on the emerging research conceptualizing homes as care environments.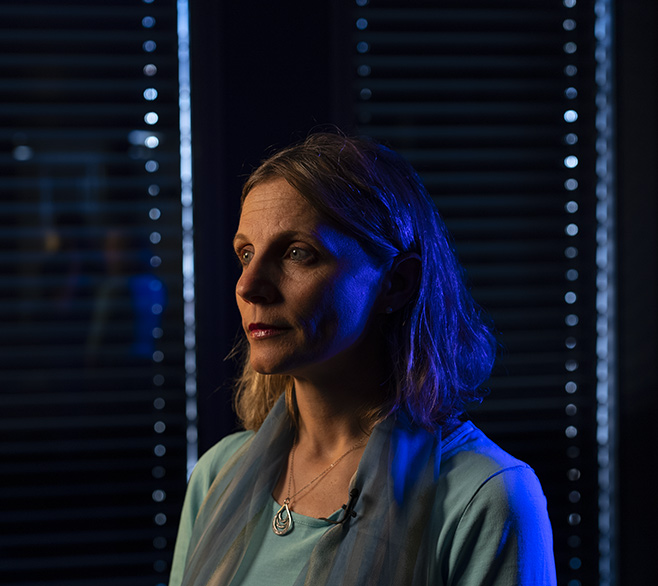 Lara de Preux-Allet
Prof. Lara de Preux-Allet is a physiotherapist who graduated from the Loèche-les-Bains school of the HES-SO Valais. After practising her profession within the Geneva University Hospitals (Hôpitaux universitaires de Genève -HUG), she expanded her expertise in health science and obtained her PhD from Maastricht University in the Netherlands, followed by a post-doctoral stay at the University of Michigan. In 2009, having returned to Switzerland, she divided her time between the HUG – as head of quality control and physiotherapy research – and the Haute Ecole de Santé (HEdS) as physiotherapy professor. In 2018, she completed her education with a MAS in the management of health institutions. Since 2022, she has been the Director of the Haute Ecole de Santé.
Her research domains focus on the development of strategies promoting and improving the autonomy, well-being, and quality of life of people suffering from chronic metabolic diseases, and more broadly, elderly people. In particular, she pays specific attention to the evaluation and training of sensory-motor function while applying a translational research approach.
HES-SO Valais-Wallis - Haute Ecole de Santé
Chemin de l'Agasse 5
1950 Sion
Switzerland
Les chercheurs
Simone Gafner
Assistant Professor
Chloé Schorderet
Scientific Collaborator
Simone Elsig
Senior Scientist
Patrick Crettenand
Senior Scientist